Back to all posts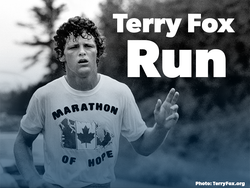 High Park School is proud to be participating in the Terry Fox School Run. Please join us and continue the legacy of one of our greatest Canadian heroes. Donate at: https://schools.terryfox.ca/HighPark Thank you for joining us in the fight against cancer! #terryfoxschoolrun @theterryfoxfoundation
Friday, September 22, 2023, High Park School will be participating in the Terry Fox Run, in an effort to raise funds and awareness for the Terry Fox Foundation and continue Terry's legacy, which began in 1980 and continues in schools and communities across Canada today.
Your child's participation in our event is covered under our blanket consent form for offsite walking excursions that was sent home today. If you have not yet completed and returned this form to your child's teacher, please do so as soon as possible so they will be able to participate in the event. 
Junior High Students participating in the 10km challenge must return an additional informed consent form. Terry Fox 10K Informed Consent.
Below is the approximate schedule of activities for the event at High Park School:
10:15 AM - Whole School Assembly in the gym
10:45 AM - 10K runners depart
11:00 AM - Students will begin departing by grade level to complete the neighbourhood loop (approximately 1.5 km).
Regular classes resume following lunch.
Please get in touch with our office if you have any questions or concerns. Donations to this event can be made at https://schools.terryfox.ca/31245, pledge forms have also been sent home (any cash/cheque donations can be handed in at the office). Thank you for your support in this important event!